Football Patches for Letterman Jackets
Strengthen the sense of unity and team pride with football letterman jackets that can be easily affixed to team apparel.
With high-quality design, these versatile patches will do justice to your team's esteem and success.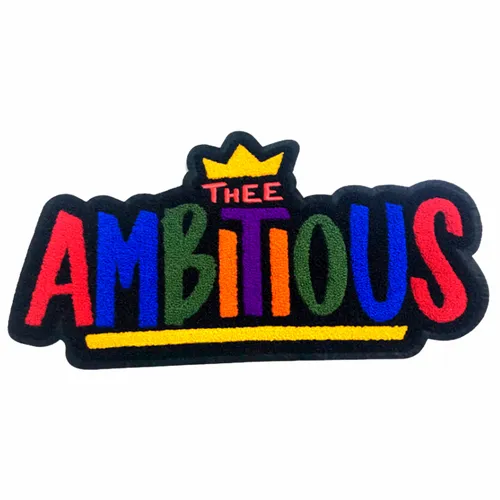 Step 5

Choose Your Guaranteed Delivery Date

Total Qty:

0

|Price: $

0.00
Football Letterman Patches Description
Enhance your varsity jacket game with our football letterman patches. Our intuitive wizard enables you to design your patches from scratch, and we meticulously craft them to represent the passion and pride of your team. Equip your players with an aesthetically-pleasing accessory for their letterman jackets. Whether it is a name patch or a team emblem, these football patches for letterman jackets allow a unique way to display team spirit. With easy iron-on or sew-on options, attaching your patches is effortless, enhancing team pride and unity. With superb embroidery and outstanding durability, these football letterman patches are the perfect addition to your team's attire.
Specifications:
Embroidery Level:
50%
75%
100%
Thread Type:
Standard
Glow in the Dark
Metallic Gold
Metallic Silver
Border Style:
Merrowed
Die Cut
Hot Cut
Backing Cloth:
Standard Twill
Flannelette
Minimum Width/Height: 2 inches
Maximum Width/Height: 12 inches
Football Patches for Jackets FAQs
How do I design my own football patches for jackets?
We provide a user-friendly design wizard that walks you through a step-by-step process to design your patches. You can choose things like size, shape, colors and custom graphics, then have them produced in any quantity you need.
Can I include my team's logo or mascot in the football letterman patch design?
Yes you can! Add those visual elements to the custom graphic part of the design to make the patches closely align with your team's aesthetics and messaging.
Do you offer bulk discounts for wholesale orders of football patches for letterman jackets?
Absolutely! The more patches you order, the more you will save per patch. Check the table on this page to get an idea of how much your order will cost you depending on the size and quantity of your patches.
Can I create my own custom football letterman jacket patch design?
Yes, you can create your own custom patch design.
What materials are commonly used for custom patches?
Common materials for football letterman personalized jacket patches include embroidered fabric, PVC, and woven fabric.
How do I submit my custom design for a patch for football letterman letter jacket patches?
We allow you to submit your design electronically via email or through our website.
Can I get football jacket letterman custom patch in different shapes and sizes?
Yes, custom football letterman jacket patches can be made in various shapes and sizes to suit your preferences.
Are there any limitations on the complexity of the design for a letterman jackets personalized patches?
While intricate designs can be created, it's important to keep in mind that certain details may be more challenging to replicate accurately on our football letterman jacket patches.
What is the typical turnaround time for custom logo football letterman jacket patches production?
The turnaround time for printed football letterman patches production can vary depending on the complexity of the design and the workload of the manufacturer. It's best to check with the specific provider for an estimated timeframe.
Can I order customizable football letterman patches in small quantities?
Yes, We offer a minimum order quantity of 10 for our personalized football letterman patches.
Can I choose the colors for my custom patches?
Yes, you can choose the colors for your fully custom patches. We offer a wide range of thread or material colors to choose from.
Can custom patches be heat-sealed or ironed onto clothing?
Absolutely! We offer many backing options for our customized football letterman patch. Including Iron-on backing.
How can I customize my order on your website?
You only have to follow 6 easy steps to get your order customized. 1. Choose your patch backing. 2. Select patch shape. 3. Select embroidery level, 50%, 75% or 100%. 4. Select border style, Merrowed or Hot Cut. 5. Input quantity and customize your patch. You have an option to upload your artwork. Click ""Browse"", it will route you to your files to select your favorite picture or you can select ""Email my Artwork Later"" from the drop-down menu if the image is not available yet. It will let you continue with the order without an attachment. You can send the file at sales@custompatchfactory.com once your artwork becomes available. 6. Select the delivery date. Then you can proceed to Add to Cart to enter your shipping information and payment method. Click submit and the confirmation email with your order number will be sent to you right away, and you're all set!
How much is the shipping and handling fee?
It's free shipping via FedEx unless you want it on an earlier date.
What if my artwork is not available yet when I placed the order. How can I send it to you?
You can still continue placing the order if your artwork isn't available yet. Just select "Email my Artwork" from the dropdown menu and send the artwork to us whenever it's available at sales@custompatchfactory.com.
Do you give discount for first time customers?
We don't just give a discount for first-time customers, you can always have the 10% off every time you place an order! Just use SAVE10 coupon code upon checkout.
What are the payment methods accepted?
You can pay using credit cards, debit cards, checks, and even PayPal.
How can I process a payment if my order is under a Pay Later option?
The easiest way to make a payment is by clicking the Proof Approval Link. Once you approve the proof, the system will route you to our payment page. You can also call or chat with our friendly customer service associate to assist you with the payment.
What is Pay Later option?
Pay Later option will allow you to checkout without payment and no obligation to order. The system will not ask you to enter any bank account information as you checkout. All orders under this option are considered priority order in which the proof will be sent to you within 30 minutes after the order was placed. Our designers is ready to modify the proof as much as you want until we hit the mark of your desired design. You have an option to cancel the order under a pay later option if you didn't like the proof.
Football Patches for Letterman Jackets Reviews
Photos of Football Patches for Jackets
Football Letterman Patches Videos
Use Cases For Custom Flag Patches

Sports Teams
Sports teams thrive on a strong sense of unity and belonging. Some people create their own custom embroidered patches for a unique look, but this is slow and inefficient. Our service enables you to make precise custom designs and have them professionally made by expert craftsmen in whatever quantity you need. This results in high-quality, unique football letterman patches that your team members can wear on their varsity jackets. The result is a greater look for your team and a stronger sense of belonging for every member, both on and off the field.

School Classes
School classes and teams can really benefit from football patches for jackets. Whether your group wears letterman jackets or something else, these patches can be a great fit for your needs. Design personalized patches with your chosen colors and design features to represent your class, then let your members wear them with pride. This will boost their sense of belonging and potentially attract new members, helping grow your class and nurture passion for the subject or activity it revolves around. Our patches are premium quality and truly unique, with versatile attachment methods for your convenience.

Military Groups
Military groups often have their own sports teams, and football letterman patches can be a great way for members to display their affiliation with the football team. They can wear them when off duty and to games to help strengthen the sense of unity. Our high-quality production ensures your design is perfectly realized in any quantity of patches you need, and you can choose the method of attachment. Align your squad's varsity jackets with your team's aesthetic to enable them to showcase it with pride and draw attention from onlookers to raise awareness of what you are doing.

Airsoft Teams
Airsoft teams benefit from unity and camaraderie as much as any sports team, and football patches for letterman jackets can be helpful. It doesn't matter if your team doesn't wear varsity jackets - these patches can be affixed to other apparel items as well. Alternatively, you could choose custom Velcro patches for a versatile solution in different scenarios. Whatever your preference, we have options of the highest quality and you can create a truly personalized design to represent your team accurately and boost the sense of togetherness and team pride.
Tips for Football Patches for Jackets
Aim for a uniform look with the letterman jackets
When designing your football patches for jackets, consider the colors and design of the jackets themselves. You want to aim for a uniform look, so match the colors and place your patches effectively for a visually-pleasing look.
Make your football letterman patches part of a wider strategy for boosting team pride
Unity and camaraderie are essential for all teams, sports or otherwise. Ordering high-quality patches from us will be a big part of achieving that, but look for opportunities throughout your team to nurture loyalty and motivation.
Place bulk orders so you always have patches in reserve
We accommodate bulk orders of football patches for letterman jackets, and they can be a great way to access cost savings. You will inevitably need more patches than you originally think, and bulk ordering can prevent you having to reorder at a higher price. Take advantage of our bulk discounts and keep yourself covered for longer at a cheaper price.
Best-Selling Football Letterman Patches
Custom 100% Chenille football patch for letterman jackets
Introducing our custom 100% chenille letterman football patch - a symbol of team spirit and accomplishment! Crafted with meticulous detail, this patch features your chosen letter or design in luxurious chenille. Perfect for football squads or sports teams, this patch showcases your dedication and unity. Elevate your team's identity and showcase your achievements with this custom chenille letterman football patch that combines quality and pride for a truly memorable expression.
Price
We understand the importance of offering the best price for our high-quality custom football letterman patches. Our commitment to affordability means that you can express your unique identity without breaking the bank. By sourcing directly from trusted manufacturers and streamlining our operations, we pass on the cost savings to our customers, ensuring that you get the best value for your money when shopping with us.
Fast Delivery
We strive for fast delivery to provide you with a seamless shopping experience. Our efficient order processing and strong partnerships with reliable carriers enable us to ship your customizable football letterman patches promptly. We understand the excitement of receiving your order, and we work diligently to ensure that your football letterman custom patches reach your doorstep quickly, allowing you to start enjoying and showcasing them in no time.
Award Winning Customer Service
We take pride in delivering the best customer service experience possible. Our dedicated team is committed to providing prompt and personalized assistance at every step of your journey with us. Whether you have questions about our personalized football letterman patches, need help with customization options, or require support with your order, our friendly and knowledgeable customer service representatives are here to help, ensuring that you receive exceptional support and satisfaction.
Similar Custom Patches By Clothing
Similar Custom Letter Patches