How To Sew On Military Patches By Hand
Patches play a crucial role in military gear, fostering a strong sense of pride and identity. Whether you're an active service member, a veteran, or utilize patches for other purposes, mastering the art of how to sew on military patches by hand is a valuable skill. In this post, we provide a comprehensive, step-by-step guide for sewing these insignias onto various types of military uniforms, reinforcing your connection to the armed services.
From choosing the right tools to understanding the precise stitching techniques, we'll guide you through each stage. Join us as we dive deep into the world of hand-sewn military patches, equipping you with the knowledge and skills of how to sew army patches with precision and pride.

Key Takeaways
It's important to prepare before starting the sewing process, gathering the necessary tools and familiarizing yourself with regulations.
There are strict regulations for patch placement in the U.S. military.
Use a running stitch or whipstitch for attaching patches to both Army and Navy uniforms.
Alternative attachment methods include iron-on and Velcro patches.
Avoid common mistakes and follow best practices to get a high-quality result when sewing military patches to uniforms.
Preparation Required To Sew Military Patches By Hand
Before you start sewing, you will need to do a little work to prepare for how to sew on army patches. The first step is to gather the tools you will need for the job, and these are quite simple:
The patch and uniform: Obviously you need your sew-on patch and your uniform to hand.
Needle: Make sure you choose a needle size that is the appropriate size for the material your uniform is made from. More rugged fabrics often require larger, thicker needles.
Thread: Select a thread color that is a good match for your patch and uniform. For sewing on army patches, green or brown might be best, while blue or white are usually good options for navy uniforms.
Scissors: You will need a good pair of embroidery scissors for cutting the thread accurately.
Thimble: This is optional, but it will help prevent you from pricking yourself with the needle as you sew the patch on.
Make sure you position the patch correctly in accordance with military standards. This is absolutely essential, so do your research ahead of time when learning how to put patches on army uniforms.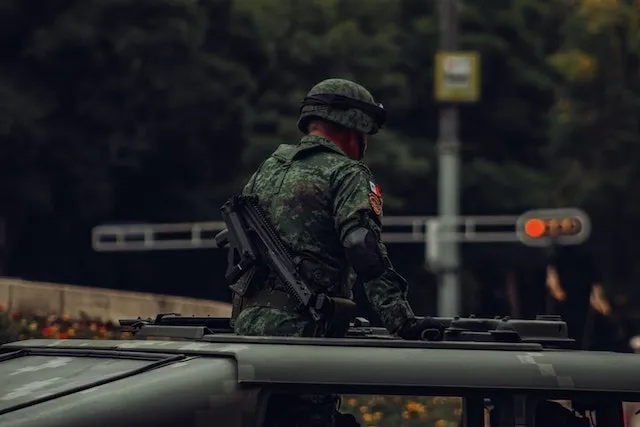 How To Sew On Military Patches By Hand
The method for how to sew military patches depends on the type of uniform you are sewing onto. For both U.S. Navy and U.S. Army uniforms, the basic stitching is very similar, but you have to pay attention to the regulations for patch placement. For example, in the army, skill badges are worn on the left hand side of the chest, just below the shoulder, and there must be the correct spacing if you have multiple badges.
If you are applying sew-on patches to your uniform by yourself, make sure you have a strong understanding of the standards that apply.
Want to make a statement with your team's apparel?
Enhance your uniforms with our custom patches!
Order now and create unique uniforms with our high-quality, personalized patches.
For Navy Dress Blues
Whether you are applying custom tactical patches, name patches, or any other insignia to your U.S. Navy uniform, here's how to sew navy patches correctly. Again, you need to know the exact positioning of your patch, as there are regulations for the placement of name patches, rank patches, specialisms, and more. Follow the appropriate guidance for this and be sure to use a ruler to get the placement, spacing and orientation right.
Once you have your patch positioned perfectly on your uniform, you should use straight pins to secure it in place for sewing. This will help ensure the patch isn't accidentally moved out of position.
Here's how to sew patches on navy dress blues:
Prepare the needle and thread: With the patch correctly positioned and pinned in place, you must take your needle and thread it. You will then want to knot the end of the thread and begin sewing from the inside of your uniform.
Start sewing: Push through the back of the patch, beginning a few millimeters away from its edge. Pull the thread all the way through, then begin using a running stitch or whipstitch all around the edge of the patch. Consider double stitching the corners for a stronger attachment.
Finish sewing: Once you have gone all the way around the patch, with every stitch pulled tight, perform your final stitch and remove the needle on the inside of your uniform. Tie off the thread and cut off any excess for a neat finish.
Check the patch: You now need to try tugging at the patch gently around the edges to test the strength of the attachment. If all is well, you are finished; if not, add extra stitches where needed to shore up the patch.
Our custom patches can be designed and produced in full compliance with military regulations and are ready for a robust, durable attachment to your uniform. Design with us and save money with bulk orders to outfit entire units with ease.
For Army Uniforms
U.S. Army regulations provide detailed guidance on patch placement for your uniforms. You should have this ready before you begin the process of how to sew on army patches as it is essential to get the positioning, orientation, and spacing right. Use this guidance to help you put your patch, or patches, in position and use a ruler to ensure accuracy. Then pin the patches in place so that they don't move when you start sewing.
You are now ready to initiate sewing. As in the previous section, thread your needle, knot the end of the thread and pull it through, starting from the inside of your uniform.
Sew around the edges: You should follow the outer edges of your patch, about 3-5mm from the edge. Use a running stitch or whipstitch and be sure to pull every stitch tight for a strong attachment.
Complete the stitching: Once you have stitched all around the edges and returned to where you started, you can pull out the needle on the inside of your uniform and tie off the thread. Trim any excess with the scissors for a neat finish.
Check the attachment: You should not gently pull the corners and edges of the patch to check for a strong attachment. If anything seems weak, at some extra stitches to strengthen it.
With our custom patches, you can also attach insignia to your head apparel. If you wear a hat at any time as part of your uniform, you should know how to put a patch on a hat too. We make it easy with full instructions and also guidance on caring for patches to get maximum longevity.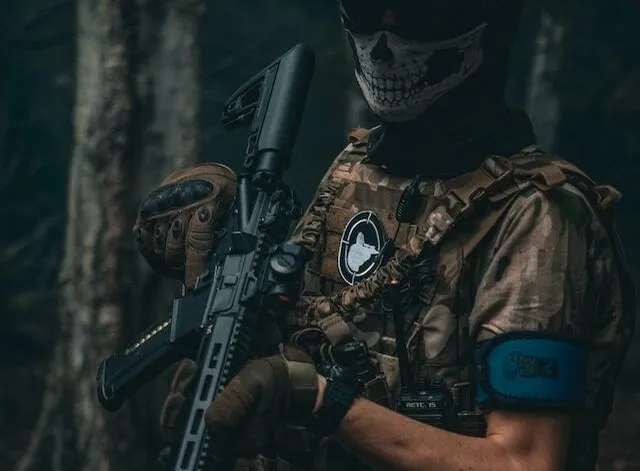 Stand out from the crowd with our unique designs
Customize your style with our patches!
Order now and make a statement
make your custom patches
Alternative Methods To Put Patches On Army Uniforms
Sewing provides the most robust and reliable attachment for your patches, which is important for the rigors of military service. But, now you know how to sew on military patches by hand, let's look at some of the alternatives. These methods may be more appropriate for veterans and enthusiasts who are not in active service, though there could be some exceptions:
Iron-on patches: These are heat-application patches that you attach to your apparel by applying heat with an iron. We supply these in custom styles for many purposes, and they can provide a durable adhesion.
Velcro patches: For a reliable attachment that is also highly flexible, many choose custom military Velcro patches. You can add and remove them at will, which is very useful in many circumstances
Adhesive patches: Though they don't provide a long-lasting attachment, we do supply custom sticker patches which can be used on gear or for military enthusiast groups.
While it is still important to learn how to sew military patches, there are alternatives out there. Whatever your circumstances, explore what's available and see what might work for you. If you are in any doubt, you can always contact our team for advice.
Common Mistakes To Avoid While Sewing Military Patches
When learning how to sew on military patches, there are a number of common errors that you should try to avoid. Doing so will ensure you get the best possible results every time. Consider the following:
Incorrect placement: It is essential to place your patches correctly. Failure to do so will mean you are not in compliance with military regulations, which will not be acceptable.
Poor stitching: Your running stitch or whipstitch must be done correctly. Poor stitching can result in a weak attachment.
Using the incorrect needle and thread: You need an appropriate needle for your uniform's fabric and a thread that is color-matched to your uniform and patch.
Not tying knots: You must knot your thread securely at the start and end of your stitching to avoid the stitches pulling out.
Skipping pins: Pinning the patch in place before sewing is important to ensure your careful positioning isn't compromised before you can sew it on.
Rushing: Take your time to sew on military patches by hand. It is a delicate process that must be done correctly, and rushing can lead to mistakes.
Our custom patches come with full instructions on attaching and maintaining for longevity. Some people choose to make their own custom embroidered patches, but this is not suitable for military applications. Come to us for accurate, professional patches made to order in any quantity you need.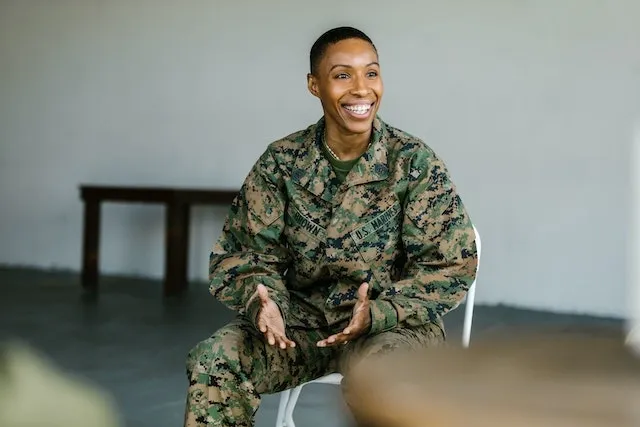 Add a personal touch with our custom patches
Express yourself with our wide range of designs
Tips To Sew Military Patches Like A Pro
There are a few things you can do to improve your results when sewing on military patches. Here are some tips for how to sew military patches like a professional:
Prepare the area first: Make sure your uniform is free from any dirt or debris that might affect the attachment.
Have the right tools prepared: Before you start, get the right needle and thread, some high-quality embroidery scissors, your straight pins and a thimble.
Use a ruler: A ruler can help ensure you get the perfect placement, orientation, and spacing of your patches.
Pin in place: Use your pins to secure the patch in place once you find the optimal positioning.
Uniform regulations: Make sure you are very familiar with the regulations for patch placement on your uniforms.
With these tips, you are in a good position to sew on military patches to a professional standard.
Frequently Asked Questions About How To Sew On Military Patches By Hand
Tips To Sew Military Patches Like A Pro
Make sure you prepare your garment's fabric first and have the appropriate tools for the job. Use a ruler for accurate positioning and use pins to secure in place before sewing.
Common Mistakes To Avoid While Sewing Military Patches
Incorrect placement and poor stitching are two common mistakes with military patches. You should always use the correct needle and thread and never forget to tie knots as you go.
Alternative Methods To Put Patches On Army Uniforms
If you don't want to sew, you could apply iron-on patches or Velcro patches. Adhesive patches are another option, but they will only provide a short-term adhesion.