How To Put Patches On Denim Jacket Easily Without Any Hassle
In the fashion world, few garments have endured changing trends and decades quite as well as the iconic denim jacket. It is a canvas for self-expression, and our step-by-step guide will show you how to put patches on a jean jacket easily. Whether you're seeking to personalize your jacket with band patches, personal mementos, or other expressions of your personal style, this post simplifies the process.
We look at iron-on patches, sew-on patches and more, exploring questions around positioning and getting a secure attachment. Read on to learn how to transform your denim jacket with our stylish, customized patches.

Key Takeaways
The processes are different for iron-on and sew-on patches.
There are also Adhesive sticker patches, Velcro patches and other short-term attachment solutions to explore.
Adding patches to your denim jacket can help you express your unique style or personality and breathe new life into an old jacket.
Denim is an excellent material for applying heat-transfer patches.
How To Put Patches On Denim Jacket
The process of adding patches to a denim jacket is a little different depending on the patch type. With our custom patches service, you can create your own embroidered, woven, chenille, or even leather patch. These are ideal for denim jackets, each offering their own unique aesthetic. But you must also choose how they will attach to your garment, and the most common choices are iron-on and sew-on types.
In this section, we will look at the step-by-step processes for how to attach these types of patches to jean jackets for a secure and stylish finish, upgrading your denim outerwear with ease.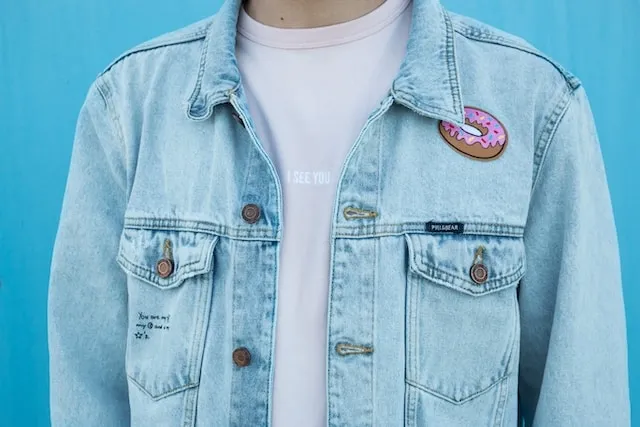 Apply Iron-On Patches To Denim
The first step in how to apply iron-on patches to a jean jacket is to prepare the garment. You should make sure the section of the denim where the patch will go is clean and ironed to ensure a good attachment. You should also prepare your iron, ensuring its steam function is deactivated and that it is heated to the temperature indicated in the instructions for your patch. From here, the process is as follows:
Put the patch in the desired position, making sure it is properly aligned with your jacket. You can use a ruler to help with the alignment if you wish.
Add a thin piece of cotton cloth on top of the patch to protect it from direct exposure to the hot iron. Next, press the iron over the patch, applying a little pressure and allowing it to soften the adhesive that will stick the patch to your jacket. A period of 15-20 seconds is usually sufficient to get a good attachment, but follow the guidance for your product.
Check that the adhesion is secure. Pull gently at the edges and corners of your patch; if it peels at all, reapply the heat for a little longer. Once it is securely in place, allow it to cool and don't wash the jacket for 24-48 hours.
This is how to apply patches to denim if they have an iron-on backing.
Sewing Patches Onto A Jean Jacket
Adding patches to a jean jacket by sewing them on can be a robust and secure solution. We supply custom embroidered patches for this purpose, and you can customize them to get your perfect aesthetic. You will need a sewing needle that is appropriate for denim, and some thread that is color-matched to your patch. You may also want some straight pins to help.
Here is the complete process of how to put patches on a denim jacket by sewing:
Position the patch in the correct place and alignment. Use a ruler to help get the positioning right if you wish, then pin the patch in place with some straight pins.
Using a basic running stitch or whipstitch, sew around the edge of the patch to secure it in place. Start from inside the jacket and remember to knot the end of your thread.
If you have one, you could use a sewing machine for the job. With the necessary skill for machine sewing, this could produce a neater and more secure result.
When you have sewed all around the edges, tug gently at the patch to ensure it is securely in place. If you are satisfied, remove the needle and tie off the thread inside the jacket. Trim any excess thread for a neat finish.
Using this method, you will add your patches to your denim jacket very securely and achieve a pleasing result.
Want to make a statement with your team's apparel?
Enhance your uniforms with our custom patches!
Order now and create unique uniforms with our high-quality, personalized patches.
How To Attach Adhesive Or Sticker Patches
Adhesive or sticker patches are another option for adding patches to a jean jacket. While the adhesion won't be as strong as with sew-on or iron-on patches, it is a simple and flexible choice. Many people opt for this when they make their own custom embroidered patches, but we provide products with a stronger adhesive for longer-lasting results.
If you have a customized patch that attaches to your denim jacket with adhesive, here is the process for applying it:
Prepare the area of the denim jacket where your patch will adhere. Ensure it is clean, free from debris, and completely flat for a good application.
Apply the patch to the area and press down all over it to ensure strong adhesion. We provide full instructions on how long you need to apply this pressure, but a period of 1-2 minutes is often recommended. On a flat surface, you could do this by placing heavy objects on top to leave it for a longer time.
Once the patch is applied, you need to take care of it to maximize the longevity of the attachment. A high-quality custom adhesive patch may remain in place for several months to a year, but exposure to moisture from washing or rain could weaken the adhesion.
This is how to attach a patch to a denim jacket that has a self-adhesive backing. Just remember that this is best for short-term applications.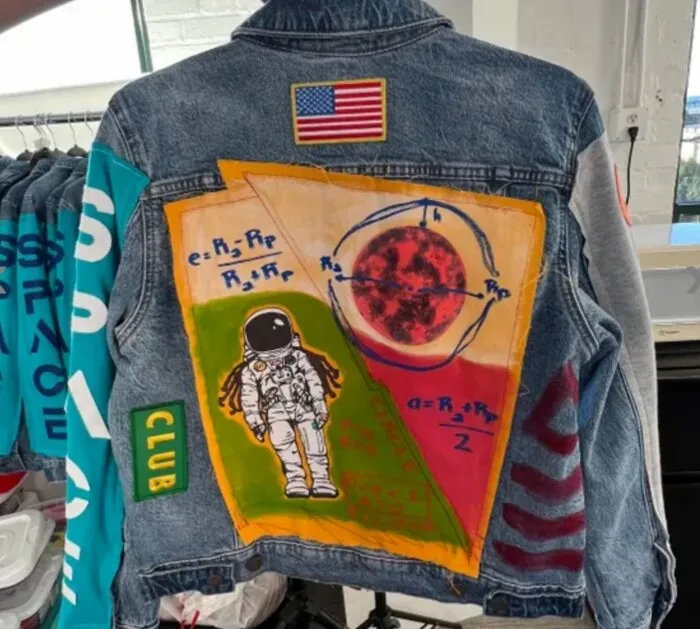 Using Velcro Patches For A Flexible Look
Custom Velcro patches are another popular choice for denim jackets. With a 2-part Velcro backing, you receive the 'loop' portion to adhere to your garment, often with a sew-on or iron-on approach, while the sticker has the 'hook' portion on the rear. This enables you to attach your Velcro patch to your garment and easily remove it for washing or swapping for another.
If you enjoy the ability to quickly change your appearance, Velcro patches are a fantastic solution for how to apply patches to denim jackets, jeans, or other apparel. It can be helpful to have multiple patches that are the same size and shape to achieve this, so plan ahead if you want to make this your thing. The hook and loop attachment is as secure and durable as it is versatile, making this a popular choice for many people.
Stand out from the crowd with our unique designs
Customize your style with our patches!
Order now and make a statement
make your custom patches
Types Of Patches For Denim Jackets
An exploration of how to put patches on denim jackets wouldn't be complete without looking at the full range of custom patch attachments that are suitable for denim. As a robust fabric, the properties of denim make it versatile and suitable for most types of patches, so here is a comprehensive list:
Iron-on patches: The heat-activated backing creates a strong adhesion to the denim for a secure and durable attachment for your custom patches.
Sew-on patches: This is known as the most reliable method of long-term attachment. You will need a sturdy needle and a little skill, but sew-on patches are ideal for attaching to jean jackets.
Velcro patches: Another of the best ways to put patches on denim jackets, the hook-and-loop mechanic enables flexibility along with a secure attachment.
Adhesive patches: Though not the most durable solution, adhesive or sticker patches are compatible with denim.
Magnetic patches: With a small magnet placed inside the jacket, these patches are great for a temporary attachment to your jean jacket.
Pin-back patches: Similar to pin badges, these patches are ideal for a versatile, temporary attachment that is well-suited to denim.
We offer custom patches with all these types of attachments and vast personalization options. Use our service to get high-quality custom patches suitable for you, ordered as single units or in bulk.
Benefits Of Adding Patches To Your Denim Jacket
There are several potential benefits to learning how to put patches on a denim jacket. In fact, throughout the years, jean jackets have become synonymous with attaching patches for self-expression or to revamp one's style. Here are the main benefits of adding patches to denim jackets:
Personalization: You can make your jacket unique to you, showcasing your interests, affiliations, or personal style.
Refresh or update an old jacket: Some custom patches can breathe new life into an old jacket, enabling you to wear it with pride once more
Represent memories or personal stories: Whether you are a military veteran, a member of a motorcycle club, or you went to a big music festival, custom patches are a way to showcase those things on your denim outerwear.
By learning how to apply patches to denim jackets and using our service to create unique, custom patches, you can access all these benefits.
Add a personal touch with our custom patches
Express yourself with our wide range of designs
How Do You Put Patches On A Jacket Without Sewing?
The methods available for how to apply patches to denim jackets without sewing are similar to how to put patches on hats or any other item of apparel. If you don't want to sew, you can use one of the alternative attachment methods for your patch. We have covered them in this post already, but here are some examples:
Iron-on patches
Custom Velcro patches
Adhesive or sticker patches
We supply all these types of patches and more, available in your custom design and in any quantity you require. Choose what works for you and access the many alternatives to sewing for attaching patches to jean jackets.
Do Iron-On Patches Stay On Denim?
Iron-on patches are an excellent solution to add patches to denim jackets. By following the steps outlined earlier in this post, you can achieve a robust and secure attachment that enhances the longevity of the adhesion. We also provide comprehensive guidance on maintaining the patches you receive from us.
Here are some essential practices to ensure the durability of your iron-on patch:
Surface Preparation: Prior to applying the patch, ensure the denim surface is clean and free from dirt, debris, or any residues that might compromise the attachment.
Correct Temperature: Set your iron to the appropriate temperature as specified in the instructions to activate the adhesive optimally.
Complete Cooling: Allow the patch to cool completely after application to ensure proper adhesive setting.
Post-Application Wait: Wait at least 24-48 hours before washing the jacket after attaching the patch. When washing, turn the jacket inside out and use a gentle wash cycle to further protect the patch.
By adhering to these practices, you can effectively apply patches to denim jackets and maximize their durability.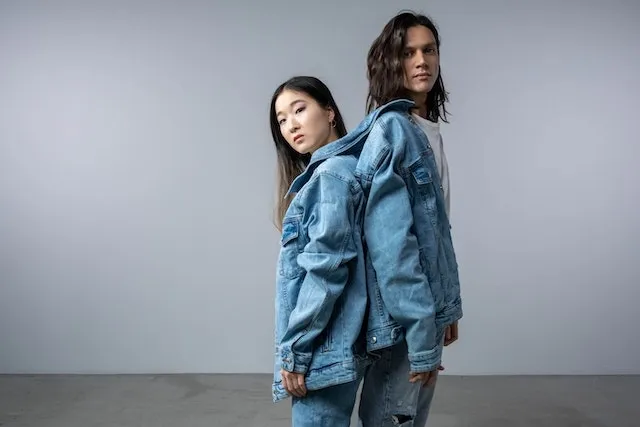 Make a statement with our unique designs
Stand out with our custom patches!
Order now and show off your style
make your custom patches
Tips To Add Patches To Denim Jackets Effectively
A little creativity goes a long way when striving to achieve the best look while applying patches to your jean jacket. However, one must not overlook the significance of practical steps to ensure the right appearance and enhance durability.
Here are some tips to obtain the best results when applying patches to denim jackets:
Select Patch Placement Carefully: The positioning and alignment of your patches are vital considerations for a cohesive look. When applying multiple patches, think meticulously about the layout and be creative in your approach to achieve the desired look.
Combine Different Patch Types: Diversify your look by combining patches of various shapes, sizes, colors, and materials. With a bit of planning, you can transform your jean jacket by incorporating an appealing mix of patch types on the front, back, and sleeves.
Taking Care: Maintaining a clean jean jacket is essential. Pay close attention to the washing and maintenance guidelines for your patches to avoid damaging them or compromising their attachments.
By heeding these tips, you can achieve the best results when adding patches to your denim jacket.
Frequently Asked Questions About How To Put Patches On Denim Jacket
Do Iron-On Patches Stay On Denim?
Yes they do - in fact, they are one of the leading solutions for how to put patches on a jean jacket.
How Do You Put Patches On A Jacket Without Sewing?
You can use an iron-on, Velcro, or adhesive patch to avoid sewing. There are also other attachment types available.
Benefits Of Adding Patches To Your Denim Jacket
You can personalize your look, revamp an aging jacket or express aspects of your personality with custom denim jacket patches.