How To Iron On A Patch To A Backpack In A Easy Way
Attaching a custom patch to your backpack can be a simple yet effective way to display your affiliations, passions, or simply personalize its aesthetic. In this post, we will explore a straightforward method for how to iron a patch onto a backpack, resulting in a professional appearance. Whether you're an experienced DIY enthusiast or a complete beginner, our step-by-step guide and valuable tips will ensure a secure and well-aligned attachment of your personalized patches. The iron-on approach is notably easier than sewing, so let us guide you in making a stylish statement with your backpack.

Key Takeaways
You must gather your materials before you start the iron-on process.
Heat-application patches can be applied to a backpack by simply using an iron to heat the adhesive.
Here we provide a step-by-step process, along with special considerations for nylon and polyester bags.
Sewing is another option if you don't want to use iron-on patches.
Some bag types are better suited to iron-on patches than others.
There are some general considerations to keep in mind when applying an iron-on patch to a backpack.
What Materials You Will Need To Iron On A Patch To A Backpack
You can iron on patches to a backpack with just a few basic materials to hand. To apply your custom heat transfer patches, you will need the following:
A backpack: Have the backpack you want to attach your patch to ready.
Iron-on patch: Have your custom iron-on patch to hand.
An iron: Your regular household iron should be sufficient for the job. If it has a steam function, turn that off.
Ironing board: A flat, stable surface is required for the application, and an ironing board is ideal.
A thin cotton cloth/parchment paper: This is to prevent direct contact between the patch and the hot iron.
A ruler: This is helpful to ensure a precise placement of the patch.
Timer: This can help ensure you apply heat from the iron for the appropriate duration.
Iron-on patches are compatible with a wide range of backpack materials. Cotton and canvas backpacks provide the ideal surface, while polyester and nylon backpacks may require a cooler temperature to protect the fabric. The same is true for leather and faux leather, while mesh or mesh-lined materials may not provide such a strong adhesion.
Our custom patches are very versatile and we provide full instructions on how to attach them. Be sure to pay attention to these instructions as well as any that relate to the backpack material.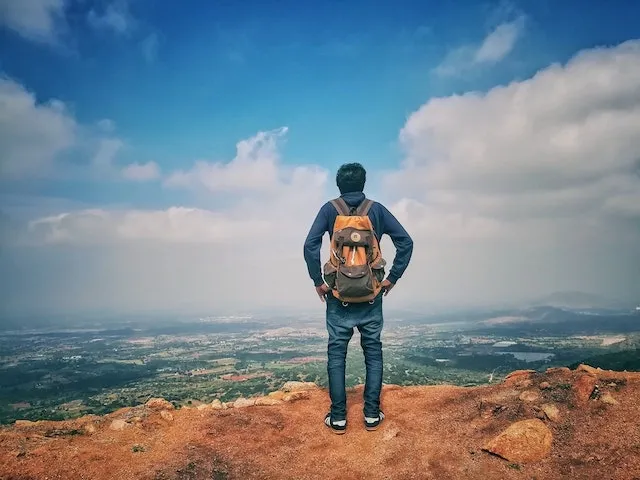 How To Iron On A Patch To A Backpack
Now we will look at a simple step-by-step process for how to put iron-on patches on a backpack. Having prepared all the materials listed in the previous section, you should be ready to initiate the process.
Prepare the backpack: The area where you are applying the patch must be clean and dry. Check it first and clean as necessary.
Set your iron temperature: The instructions for your custom iron-on patch will recommend the ideal temperature. But you should also check manufacturer guidance for your backpack, as higher temperatures can be harmful for certain materials. Choose a temperature that is safe for both, but will still be effective at creating an adhesion.
Warm the backpack: Apply the iron to the section of the backpack where the patch is going. This will preheat the area to help facilitate a robust adhesion.
Position the patch: Make sure it is aligned with the contours of your bag and the area for attachment is flattened. Use the rule to measure from the edges of the patch to the edge of your bag - this will help ensure proper alignment.
Iron the patch: For our patches, we recommend that you apply the heat for 15-20 seconds to get a secure attachment. For larger patches, make sure you apply the heat to all areas of the patch for this duration, and don't forget to do the edges and corners.
Check the patch: Gently pull at the edges and corners to test the adhesion, if they peel, you will need to apply the heat for longer. It may be helpful to turn the bag inside out and apply heat from the inside to strengthen the adhesion. Just be careful with your bag's material.
Let the patch cool: You must allow the adhesive to set, so don't use or wash the bag for 24-48 hours. Test the adhesion afterwards and re-apply heat if it isn't securely attached.
Follow this method to achieve a secure adhesion. It's very similar to the process of how to put a patch on a hat.
Want to make a statement with your team's apparel?
Enhance your uniforms with our custom patches!
Order now and create unique uniforms with our high-quality, personalized patches.
How To Iron-On A Patch To A Nylon Backpack?
When you have a nylon backpack, the basic process of how to iron on patches to your backpack is roughly the same. You can iron on patches to nylon backpacks, but you will need to take a few extra precautions due to the nature of the nylon fabric. Keep the following in mind:
Lower heat settings: Use the lower end of the temperature range recommended in the patch manufacturer's instructions to protect the nylon.
Use a pressing cloth: Place a thin cloth or parchment paper between the iron and the patch to safeguard the nylon.
Shorter heating time: Start with a shorter duration, checking adhesion as you go. Adding a little extra time if needed can protect the bag better.
Inside-out ironing: Consider turning the backpack inside out and applying heat from the inside to avoid direct contact with the outer nylon fabric
When you design your custom patches with us, you are guaranteed a high-quality product. And we are available to offer support if you need it, in addition to providing comprehensive guidance on how to iron on your patch to your backpack.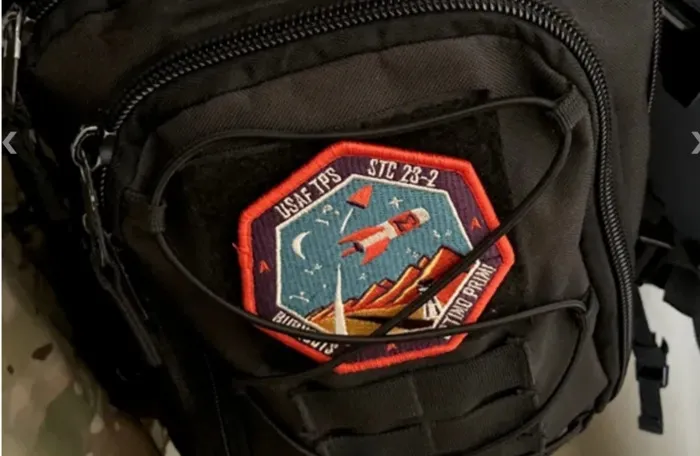 How To Iron-On Patches On Polyester Backpacks?
As a synthetic, plastic-like product, polyester has similar properties to nylon. As such, you must take the same precautions when carrying out the process for how to apply iron-on patches to your backpack. Iron-on patches do work with polyester backpacks, but you should take extra care to protect the fabric:
Use a lower heat setting on your iron.
Use a pressing cloth as an extra layer of protection.
Shorten the heating times to protect the fabric.
Consider inside-out ironing to protect the outer surface of the polyester.
Even if you make your own custom embroidered patches, you must be mindful of the sensitivity of different materials to heat. With our comprehensive guidance, it is easier to ensure you are protecting your patch as well as your bag during the process of putting iron-on patches on your backpack.
Stand out from the crowd with our unique designs
Customize your style with our patches!
Order now and make a statement
make your custom patches
How To Sew On Patches
If you are concerned about applying heat to your backpack, or you want an even more durable solution, you could choose to buy custom sew-on patches for your backpack. Sewing a patch onto a bag is the most secure method of attachment, but it does require a little skill to do it.
Here's a simple method for how to sew on patches:
Gather the right materials: You will need a sewing needle and some thread in the right color for your patch and bag. You will also need some straight pins and a ruler to align the patch properly in position.
Secure and place the patch: Position and align the patch carefully where you want it, then use the pins to secure it in place. This will make it easier to avoid the patch moving whilst you are going about the sewing process.
Sew the patch carefully: Using a simple running stitch, or perhaps a whipstitch, sew all around the border of the patch. It can be helpful to use extra stitches at the corners to achieve a more robust attachment. When you have finished, tie off the thread on the inside of the bag.
Complete the work: After you have tied off both ends of the thread, cut off any excess thread and test the adhesion. If you discover any weaknesses, add a couple of extra stitches to shore it up.
This is an excellent alternative to the iron-on method, and it works great for custom embroidered patches, as well as felt patches, chenille patches and more. But it does require a little sewing skill, so you may need to practice a bit first.
Can You Iron-On A Patch On Any Type Of Bag?
The method for how to iron on patches to a backpack is compatible with a wide range of bag materials. We supply an array of patch types that look great attached to different bag materials. Here is a non-comprehensive list of the types of bags that are compatible with iron-on patches:
Cotton: Bags made from cotton are among the best-suited to iron-on patches. They provide an ideal surface for adhesion, and look best with embroidered, woven, or chenille patches.
Canvas: These bags are often made of a mix of cotton and canvas, and they are also very good for heat-application patches. You will get a strong and durable attachment, and most types of fabric patches are an aesthetic match.
Denim: Bas made from denim are another excellent choice for iron-on patches. They also work well with sew-on patches, and leather is a great patch material for them.
Polyester and nylon: These fabrics are less heat-resistant. You can still use our method for how to iron on a patch to your backpack, but lower heat settings are recommended. Alternatively, you could try sew-on or custom Velcro patches.
Leather and faux leather: Leather materials may not provide such a strong adhesion with iron-on patches. But they can still work, but you should be careful not to overheat the material.
Mesh: Iron-on patches are not such a great idea for mesh bags because the open weave provides less surface area for the adhesion.
We provide guidance in our instructions about getting the best possible adhesion for your custom iron-on patch. But you should remember that not all fabrics are the same, so you won't get identical results when working with different materials.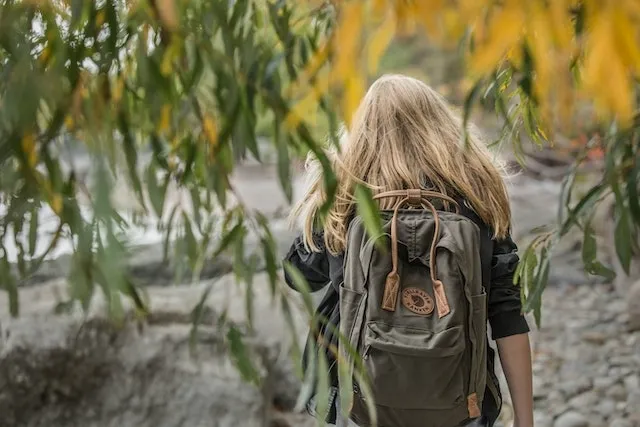 Add a personal touch with our custom patches
Express yourself with our wide range of designs
Things To Take Care Of While Ironing A Patch To A Backpack
So now you know how to iron patches onto a backpack, with some precautions for different types of bag materials. We supply embroidered, woven, chenille, bullion and many other types of patches with iron-on backings. This means you have lots of choice, and we always provide specific guidance for your patch material so you can achieve a secure attachment.
Remember M.A.T.C.H. to be mindful of things to take care of when using iron-on patches:
Material compatibility: Make sure that your patch and the backpack material are compatible. Iron-on patches are ideal for cotton, canvas and denim, but you should take extra precautions with nylon or polyester. Leather and faux leather may not achieve a good adhesion, and mesh bags are unlikely to be compatible.
Alignment: It's important that you position the patch correctly before applying heat. Use a ruler to measure to the edges for proper alignment.
Temperature: You must set your iron to the appropriate temperature for the job. The aim is to get the right balance between sufficient heat to create the adhesion, but a cool enough temperature to avoid damaging the fabric.
Clean and dry surface: The area of the backpack where you attach the patch should be clean and dry for a strong adhesion.
Heat duration: Follow the time and pressure guidelines provided in the patch manufacturer instructions. A duration of 15-20 seconds is usually recommended, and you must heat all parts of the patch, applying pressure throughout.
This is our simple M.A.T.C.H. approach to remembering the key considerations for how to iron on a patch to a backpack. Other things include preheating the area the patch will be applied to, allowing the patch to cool and performing an adhesion test. Always follow the manufacturer instructions throughout, and pay heed to the guidance we have provided in this post.
Frequently Asked Questions About How To Iron On A Patch To A Backpack
How To Iron-On Patches On Polyester Backpacks?
To iron on a patch to a backpack, choose the positioning and make sure the bag is clean. Apply the recommended amount of heat for 15-20 seconds, ensuring complete coverage.
Can You Iron-On A Patch On Any Type Of Bag?
The ideal bag material for iron-on patches are cotton, canvas and denim. Nylon and polyester are compatible with extra precautions, but avoid leather, faux leather or mesh bags.
How To Iron-On A Patch To A Nylon Backpack?
The process to iron on a patch to a nylon backpack is the same, but you must take extra precautions to prevent the fabric being exposed to excessive heat.