| | | | | | | | | | |
| --- | --- | --- | --- | --- | --- | --- | --- | --- | --- |
| Qty | 50 | 100 | 200 | 300 | 500 | 1000 | 2000 | 3000 | 5000 |
| Price | $0.84 | $0.71 | $0.40 | $0.32 | $0.27 | $0.23 | $0.18 | $0.17 | $0.15 |

Select this option at checkout if you prefer to pay after you are satisfied with your proof
Christmas Gift Box Sticker
Let's give some glamour and sparkle added to your gifts box! Complete your gift with our pre-made Christmas Stickers to seal your gifts, box, or envelope with love!
Product Details
Material: Coated paper
Shape: Rectangle
Size of 1 sticker: 1.18 in x 3.54 in
Designs: 4 Style Available. Each style has 3 different designs in one sheet.
Can I place my order online?
Of course, you can. Following are the ways you can place your order: 1. Online 2. On the phone 3. On chat 4. Via email
Is someone available to help me with my order?
Of course! You can Live Chat with one of our employees or call Customer Service at (855) 856-4070 or phone us at (281) 533-8932 to obtain help with your order.
I want a custom sticker, is your price the lowest of all?
Our prices are always the lowest in the market for customs. We can assure you that there will be no company in the market that will be able to provide a lower price and faster turnaround than our company.
What does production time mean?
Production time refers to the period it takes to make your table cover order in our production facility. The time is based on business days, Monday through Friday, excluding holidays.
What happens if there is a mistake with my order?
If there is a production error we will redo the cover without any questions asked.
Will I see a proof before my order goes into production?
No. Since these are pre-made stickers. We only send a proof for custom stickers.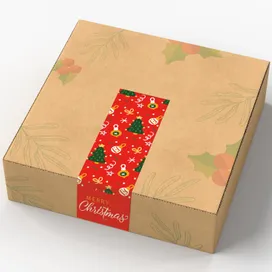 Christmas Gift Box Sticker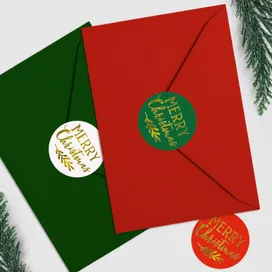 Gold Foiled Christmas Sticker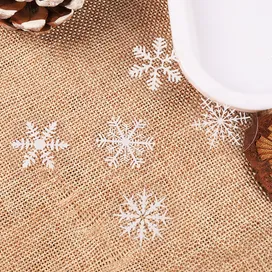 Step 4
Select Delivery Date
Review Order Details
Product: Christmas Gift Box Sticker
Total Quantity: 0
Total Amount: $0.00 (All Inclusive)